Classwork: Final armor projects
My class turned in some of their final armor projects today, and i thought i'd share images here!
Also, since we are starting to get a lot of prospective graduate students applying, visiting, showing their portfolios, i created some new quick-linked categories in the tags section there in the left sidebar especially for those wanting a speedy overview of posts pertaining to specific crafts artisanship courses we offer. So, for the curious, if you want to see, say, everything i've posted pertaining to the millinery class (offered in Fall 2008), you can click the tag called
class: millinery
and see info on textbooks and examples of past projects from previous students, etc.!
But i digress--on to the armor!
Behind the cut: "Futura" breastplate from
Metropolis
, scale armor for a woman, Jacobean-influence breastplate for a child, and a samurai helmet.

note: photo taken at downward angle
This breastplate by second-year MFA candidate B. Daniel Weger was taken from the robot Futura in the silent film
Metropolis
. Daniel used Wonderflex thermoplastic and Fosshape thermoformable felt shaped over a mannequin torso to create this piece. He painted it with primer and Rustoleum metallic paint, and airbrushed some toning and ageing into it.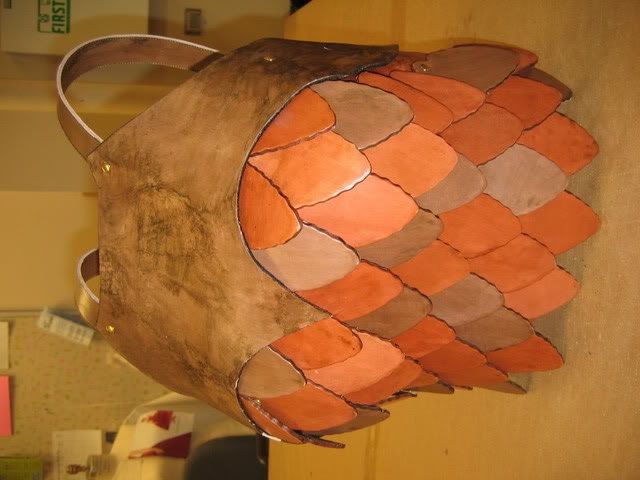 This riveted scale armor breastplate was made by first-year graduate student Amy A. Page, using vegetable-tanned leather (belly and shoulder footage), water-hardened and shaped over a custom torso form Amy made of herself, and stained with
Tandy
's line of Eco-Flo leather colorants. It laces up the center back.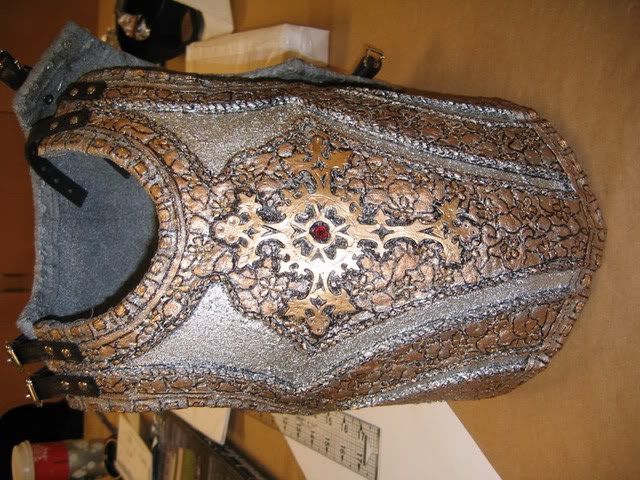 Third-year graduate student Emily Mason created this Jacobean-influence breastplate for a small boy. She scaled down breastplate shapes and made them from thick industrial felt impregnated with sizing and Sculpt-or-Coat. The details are overlays of embroidered felt, hand-cut leather, embroidered trim, and textured cording. She had to shape it over a wastecan because we hadn't any dress form of an appropriate size!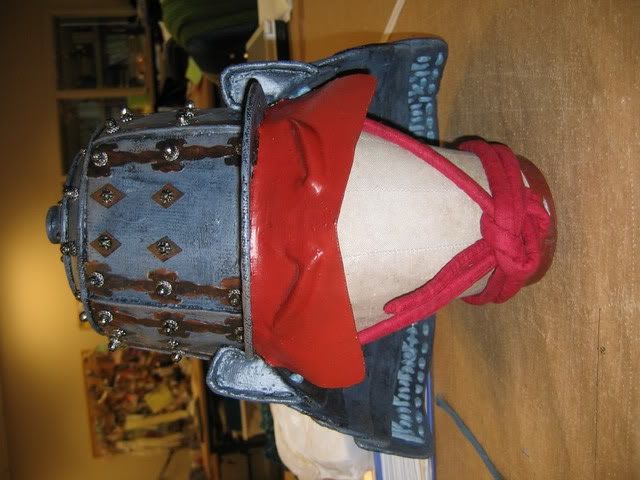 front view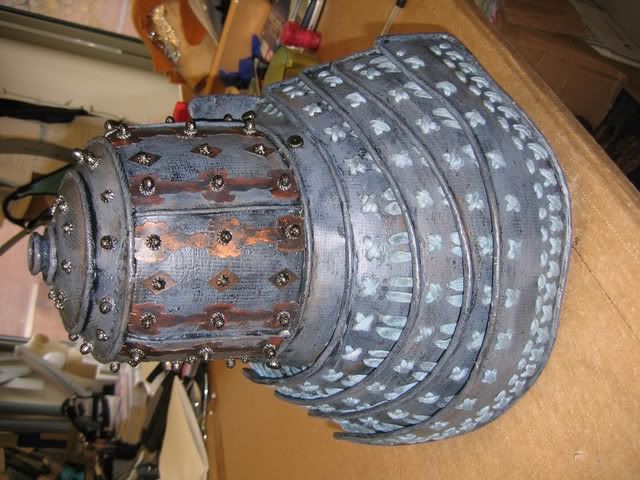 back view
This samurai helmet was made by second-year MFA candidate Jacki Blakeney Armin, from Wonderflex thermoplastic, heavy wire, Bristol board, Sculpt-or-Coat, and various jewelry findings, and is laced together with hand-dyed cotton lace using traditional lacing patterns. She made it to be functionally worn by her husband; both Jacki and her husband are certified fight choreographers.