In shoe class, our second project addresses the concept of footwear add-ons: spats, gaiters, pattens, spur leathers, anything that could be created to change the look and function of footwear, that is not actually permanently attached to the shoe itself.

Because of the small number of students in the class (2), i do all the projects along with them, partly because i feel that the best way of learning costume crafts artisanship involves both the creation and engineering of practical projects, and observing how others create and engineer projects, and partly because i just want one more project in the mix to discuss. Plus, hi, it's fun!

So, one of my students is making leather pattens to go over the sole and heel of a late 18th c. court shoe, and the other is making decorative knee-high spats to cover high boots...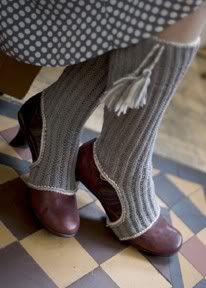 Photo property of Interweave Knits Magazine



I'm doing something completely different.

Doing a Google image search on "gaiters" while preparing for my lecture, i came across the above image and decided it would be my project. The depicted knitting pattern, "Uptown Gaiters," was offered as a free pattern for subscribers to the magazine in winter of 2004. I probably could have contacted the magazine and offered to purchase the pattern, but i felt that would have been "cheating." The idea was to treat the image as if it were a research picture provided by a designer, for which the knitting pattern was unknown--the goal of the project then was to determine the pattern from the picture and recreate it.

This was a particularly daunting project choice for me, as...well, to put it plainly, i suck at knitting. Flat suck at it. I learned how to knit on the most basic level because as a crafts artisan, knitting sturdy cord on huge-gauge knitting needles and daubing it with metallic paint is the easiest way to create chain-mail-looking sleeves and tunics and the like. That's rarely called for, and when it is, the quickest way to handle it is with a knitting machine. I've never knitted anything complicated from a pattern, because i've always thought of knitting and crochet applications as being most useful to me in a sculptural sense--build the shape you need intuitively, whether it be a sleeve piece or a crazy-awesome piece of yarn head-sculpture, a la crochet artist Ana Voog.

Before dealing with the actual knitting portion of the program though, i knew the first step was to determine the shape i needed. I started with an old crappy sock and a pair of pumps. I cut the heel and toe out of the sock, then put it on over top of the shoe and marked out my design lines with a laundry marker, so: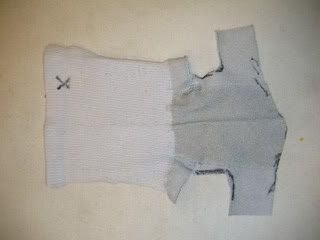 Then i made several mockups from various stretchy materials to test my pattern: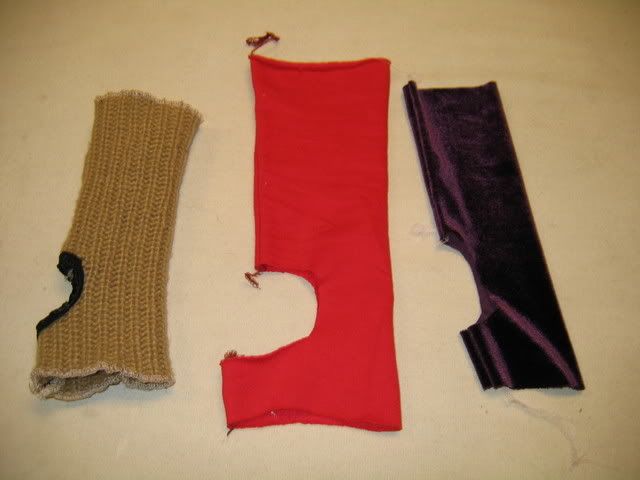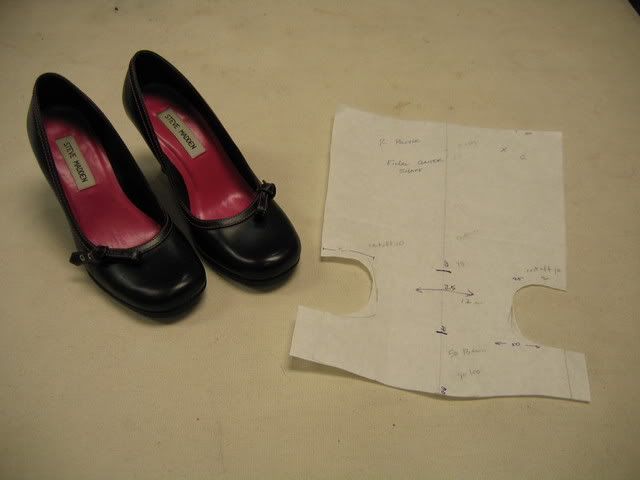 ...before i finally got a shape that was accurate.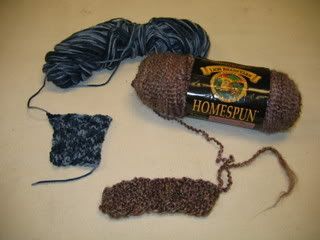 I went through our yarn stock and chose several options.
Then i knit up some test squares, 20 stitches wide and 4" long.



Well, okay, when it was clear that the yarn on the right was too chunky, i ditched the sample after only 2". Finally i decided on a skein of Red Heart acrylic in an eggplant color--not what i would have purchased, were i doing it on the fly, but more than serviceable for my first try at these things.

The next step was beyond my knitting experience, but luckily one of our graduate students, third-year MFA candidate Erin Korey, is an accomplished knitter and offered to help me write up the pattern according to pattern-notation conventions. We measured the dimensions of the paper pattern i had created, then Erin used the 4" x 20 stitches square of 2x2 rib to figure out how many stitches made up the shape, and in what configuration. Then, i began to knit.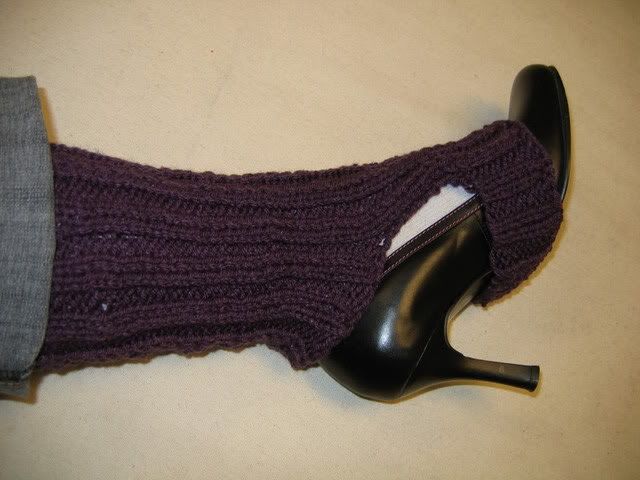 Here's the first try with the initial pattern.



I tried it on the pump before doing the decorative crochet "trim" portion and sure enough, it was slightly the wrong shape. We didn't want to see any of the white sock beneath. I decided to change my pattern by four stitches on each side of the cutout, and our program director Judy Adamson offered to knit a second version dropping six stitches on each side of the cutout. Mine wound up being the desired shape: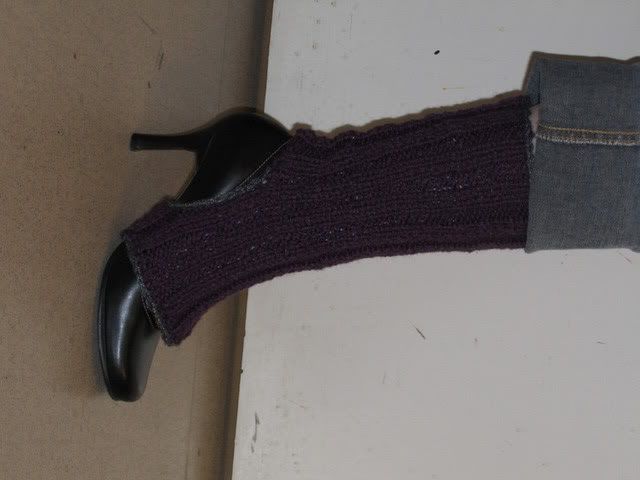 In case you're a knitter and want your own pair, here's the pattern! Personally, i'm going to be making several pairs to wear with pumps in the wintertime.



Cute Wool Spatterdashes

knitting pattern by
Rachel E. Pollock & Erin Korey

(after a pattern from Interweave Knits Magazine)




Using size 7 needles, cast on 44 stitches.

Rows 1-50: 2x2 rib [k2, p2] (Add/subtract rows here for longer/shorter spats.)

Row 51: Cast off 6, 2x2 rib [p2, k2] for 32 stitches.

Row 52: Cast off 6, 2x2 rib [p2, k2] for 32 stitches.

Row 53-67: 2x2 rib [p2, k2]

Row 68: 2x2 rib [p2, k2], cast on 6 stitches.

Row 69: 2x2 rib [k2, p2], cast on 6 stitches.

Row 70-79: 2x2 rib [k2, p2]

Row 80: Cast off all stitches.

Seam center back and arch seams.

Single crochet with contrasting color yarn around edge for trim.

Add tassels or pompons on single-yarn fingerwoven cord or knitted I-cord as desired.



Off-topic for the post, but for those who enjoyed my write-up and technical analysis of the Edward Scissorhands ballet tour, they now have a LiveJournal. Friend them at
eshtour to keep tabs on how the ballet is going!

Lastly, i have to wind up with product endorsements:

Handmade wooden needles from Twin Birch
I have always previously knit with metal or plastic needles, but i'm sold on wooden needles now! They have a completely different hand to them, and the yarn handles so well on birch needles. Plus, i advocate supporting artisans working with sustainable natural materials, as well. Check them out!

YARRRRRRN t-shirt, for knitting pirates. This cracked me up.