In shoe class, our second project addresses the concept of footwear add-ons: spats, gaiters, pattens, spur leathers, anything that could be created to change the look and function of footwear, that is not actually permanently attached to the shoe itself.
Because of the small number of students in the class (2), i do all the projects along with them, partly because i feel that the best way of learning costume crafts artisanship involves both the creation and engineering of practical projects, and observing how others create and engineer projects, and partly because i just want one more project in the mix to discuss. Plus, hi, it's fun!
So, one of my students is making leather pattens to go over the sole and heel of a late 18th c. court shoe, and the other is making decorative knee-high spats to cover high boots...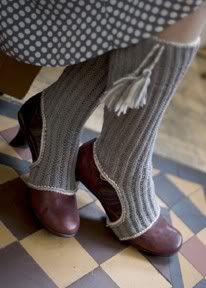 Photo property of Interweave Knits Magazine
(
Collapse
)
Off-topic for the post, but for those who enjoyed
my write-up and technical analysis of the Edward Scissorhands ballet tour
, they now have a LiveJournal. Friend them at
eshtour
to keep tabs on how the ballet is going!
Lastly, i have to wind up with product endorsements:
Handmade wooden needles from Twin Birch
I have always previously knit with metal or plastic needles, but i'm sold on wooden needles now! They have a completely different hand to them, and the yarn handles so well on birch needles. Plus, i advocate supporting artisans working with sustainable natural materials, as well. Check them out!
YARRRRRRN t-shirt
, for knitting pirates. This cracked me up.