Project: Recovering a parasol!
I know, i have slacked on the second half of the Bryner millinery text. It's on my laptop at home and i am now at work, my contract having commenced today, so rest assured that it is coming, next time i haul my laptop somewheres that has wireless.
However, i was inspired to get cracking on this ongoing project i've had in the works--recovering a vintage bakelite-handled parasol with a ten-panel canopy--by the forecast that we are going to hit 105 in the heat index here in piedmont North Carolina.
Now, there are a variety of ways of making a parasol canopy pattern, all contingent on the frame you intend to use. Parasols can have six, eight, ten, or more "pie-slices" comprising the canopy, and can be a range of diameters. This is why you can't just go get a parasol pattern and have it work on any parasol frame. I'm writing a book on parasol canopy patterning, so for copyrighting purposes i'm not going to go into the various ways you can generate your canopy pattern. The method i used in this case is pretty intuitive though: Take the old cover off and use a panel of it for your pattern. This can prove problematic, because the old fabric has been distorted by the stretch and tension of the frame, but you can true it up and make it work with a bit of fussing.
So, i'm lame and didn't photograph the frame with the original cover on it, but know that it was navy dotted silk which was ragged and shattered. Here's the frame with its old cover removed and parts of my new fabric mid-construction: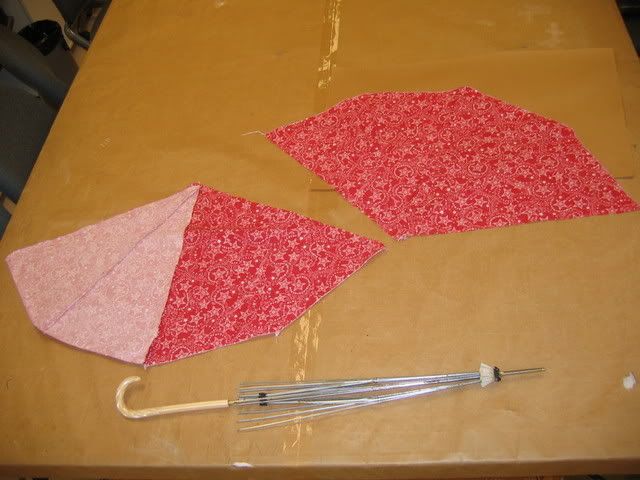 Fully seamed canopy not attached to frame
Note the "pooch" in the center: it's not a flat donut shape! The parasol cover I made actually has a slight pagoda shape to it when it's finished.
I finished off my circumference edges with a roll-hem on an overlock machine, and serged my radial seams at around 3/8". You can also french-seam the radials for a pretty finish. I'm going to eventually line this parasol though so i didn't do that.
The cover attaches to this frame with detachable rib tips. (Some parasol frames don't have removable tips; you stitch the canopy points directly to holes or wire loops at the ends of the ribs.) Here is a close-up of one safety-pinned on for checking the fit of the cover:

Experimenting with trim options.
Note the
SAFETY GOGGLES
there: i am not even kidding, you need them if you are recovering a parasol, because in the course of putting the cover on, you can jam a rib right into your eyeball. You know what they say here at work about that? "It's all fun and games until someone loses an eye. Then it's just a game: find the eye." Yeah, i know, but seriously. Get yourself some goggles and wear them when you work on parasols.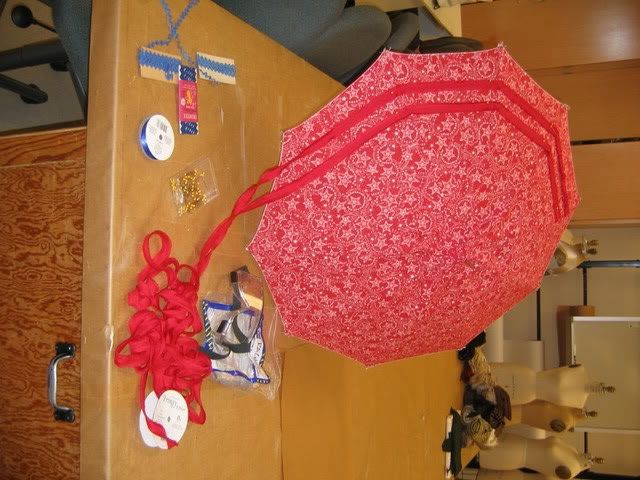 I liked this double stripe the best.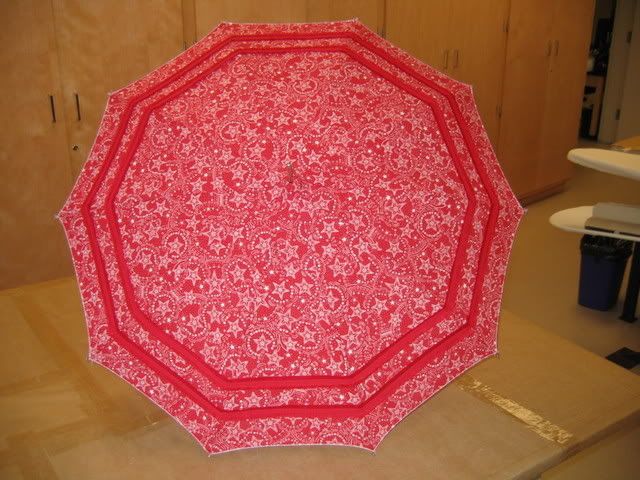 Finished canopy view
I took the cover back off and machine-stitched the trim on.



side view



Haven't lined it yet, but i'll get to that.
At least i got the new cover on in time to carry it this week on my walk to and from work. I am debating on my lining fabric--what i'd really like is a soft pink china silk. History fans will be pleased that i salvaged and retained the original manufacture's spike baffle label inside:

Spike baffle