First, some context which may seem self-centered, but is also relevant:

I've got a couple of really exciting gigs starting up in the next few days! I'll be working Saturdays doing millinery assistance at the Brooklyn studio of Cha-Cha's House of Ill Repute, helping produce their fall line of hats. I'll also be working at Parsons-Meares, one of the big Broadway shops, on costumes for DreamWorks' Shrek: The Musical, which will premiere in Seattle before moving to Broadway in the fall.

I'm predicting that i won't be allowed to post anything about the Shrek costumes because of confidentiality clauses relating to an as-yet-unpremiered show, but I might be able to do a post or two on what we're doing at Cha-Cha's, maybe an interview with the lead designer or a preview of the line or something.

Today's post though is about The Lion King, which i saw last Saturday at the Minskoff Theatre in Times Square.

Not only is it a tour de force of innovative, fantastic costume and production design, but The Lion King is also commendable for how "open source" a lot of its costuming actually is. Julie Taymor's book, The Lion King: Pride Rock on Broadway contains a wealth of information on how the costumes and macropuppet elements were constructed--not only her design renderings, but drafts and diagrams created by the artisans who built them, materials and technique descriptions, photos of mockups, you name it. After poring over the pages on the construction of the articulated mask mechanism for Scar while developing our Fox in The Little Prince, it was exciting to see the real thing in action. Even more exciting was the lobby display of Scar's costume (among others), which patrons were allowed to photograph!


Parsons-Meares, the shop where i'll be working for the next few weeks, builds the body of Scar's costume. Michael Curry Design builds the head/mask rig. (Remember my post on bidding on jobs? Individual artisans aren't the only people who bid--commercial shops bid on jobs as well.) The big Broadway shows aren't all built by one shop (usually), the costumes are split between shops that win the bids, so you sometimes have a situation like Scar, where part of the costume comes from one place and part comes from another. Michael Curry Design has a lot of Lion King's pieces, particularly the high-engineering stuff like the masks and the mechanized puppets. Parsons-Meares has a few other pieces as well, such as Rafiki's costume and some pampas-grass people. Several other shops have other costumes in the show--i believe Barbara Matera Ltd. does the hyenas, for example.

When a shop wins a bid on something, they usually have an ongoing contract for it, making new replacements if it is damaged or worn out or the role is recast, and replications for tours or premieres in other cities. Parsons-Meares has now made enough repeat versions of Scar's costume that it's shown up in several portfolios of prospective grad students, folks who worked on it in some capacity at some point in the past 10 years worth of the show's run.

Here are my photos of the lobby costume display: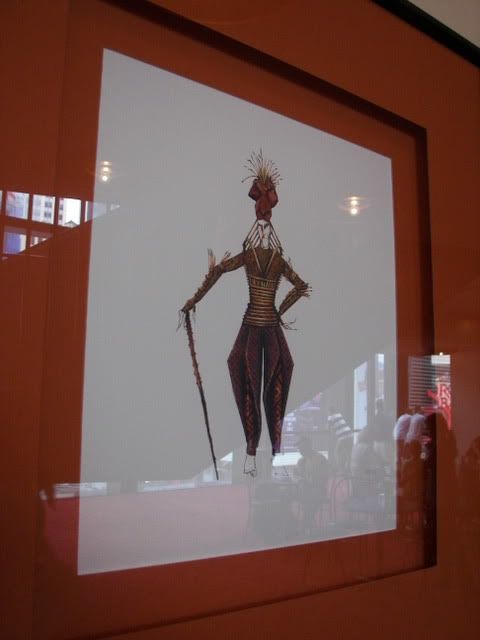 Julie Taymor's design rendering for Scar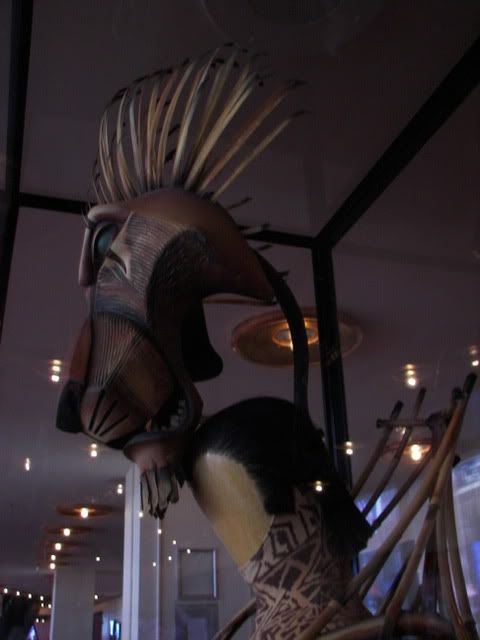 Scar's mask is cast from carbon fiber and is incredibly lightweight
(note the integrated lace-front wig and "mud print" hood/support base)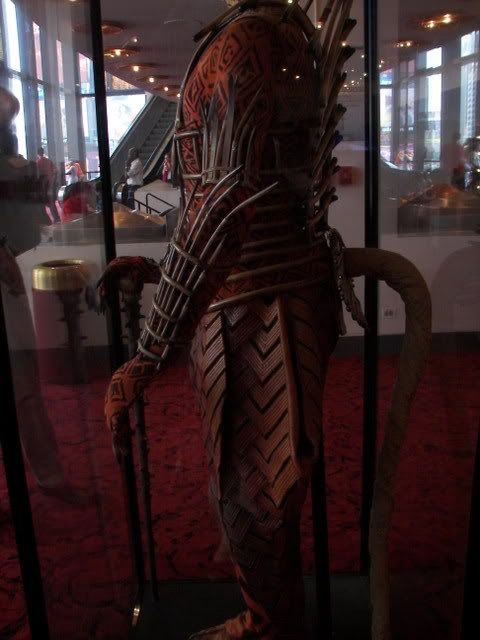 body of the costume, including hand-painted bodysuit,
leather breeches and bamboo armorlike pieces



here you can see some of the hardware where the tail attaches
to the base of the backplate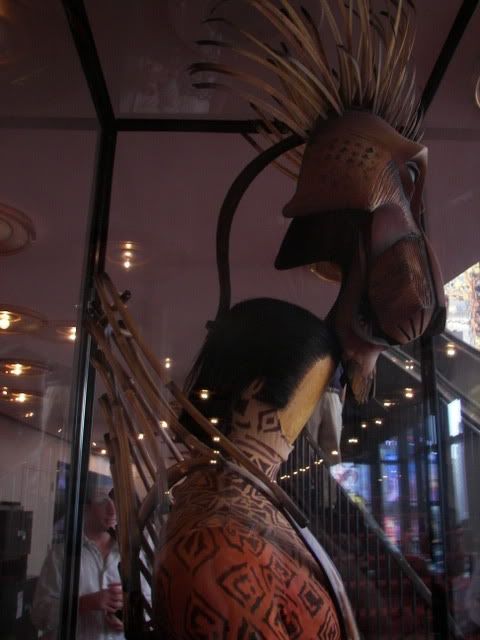 another view of the mask and upper portion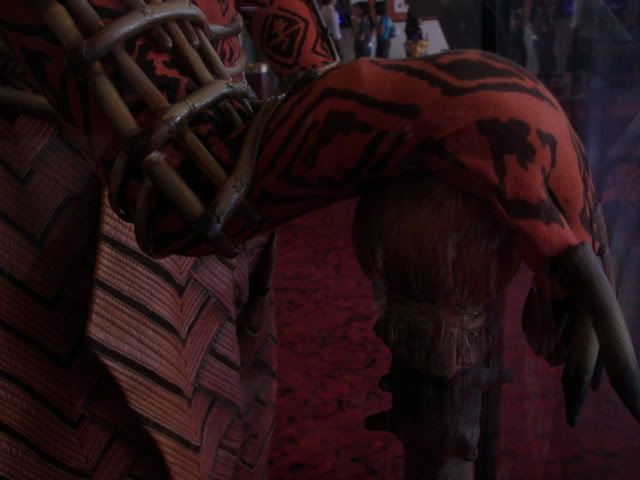 Scar's "claws" attach at the finger's first joint,
so the actor can still grip his cane easily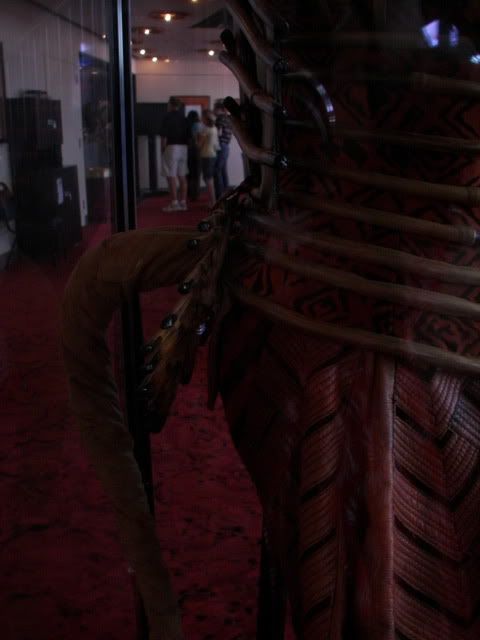 side view of the tail arc
(also check out the close-up of leather insets/stitching!)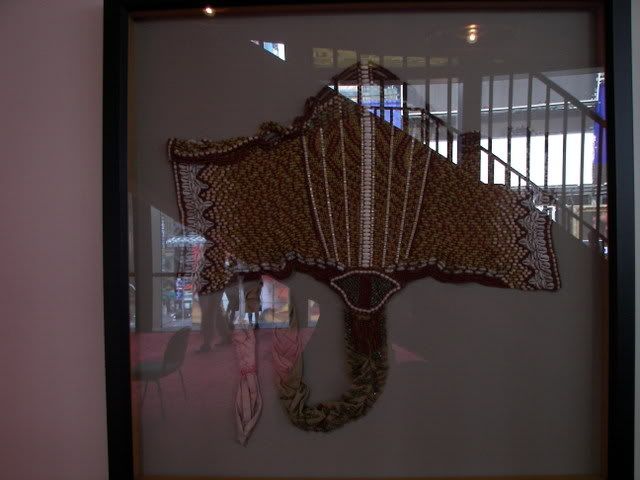 Simba's beaded "corset" displayed in the lobby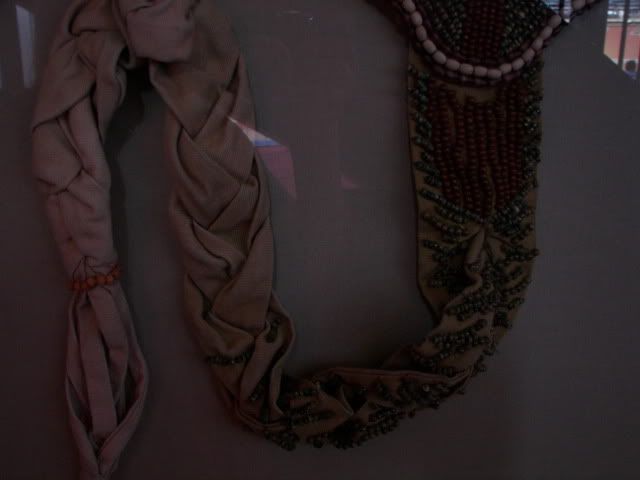 detail of Simba "corset" tail section



I'm so thrilled to have FINALLY gotten to see this show. I've read about it and studied its costumes for years, in print and up close on a backstage tour. Having worked on a remount of an earlier Julie Taymor show (The King Stag at the ART), it was exciting to compare her earlier work with this production. I spent a lot of the show literally weeping with joy over wooby dorky things like the elephants and the giraffes, just observing them in motion and witnessing the artisanship that went into them. Yeah.

Have i mentioned lately that i love my job?