Project: Crochet for theatre
Though the university is on winter hiatus, PlayMakers Repertory is still going strong, producing our next two shows which will run in repertory in January: Lisa Kron's
Well
, and Tennessee Williams'
Glass Menagerie
.
Repertory programming in regional theatre is always an added challenge, since you're juggling two or more shows at once in your production shops. Mismanagement can really trip you up, but if you can hit a good organized stride with it, it's a lot of fun!
One of the projects i'm doing for
Well
is somewhat unusual, in that it's rare to produce interlooped costume pieces for stage (i.e., knitted or crocheted garments). Theatre productions are often on fast, tight production schedules which don't allow for technicians to devote the amount of time necessary to this area of handmade construction--often, knit and crochet garments are purchased and altered, or constructed from knit/crochet yardage. If something is completely custom-made on this order, it's often done with a knitting machine, or someone in the shop prevails upon their grandmother to volunteer to knit it. Or, if you have a large budget production, you might job it out, like the knitwear worn by the Three Pigs in the recently-opened
Shrek: the Musical
(viewable in
this NY Times slide show)


I've been on a real crochet kick lately in my leisure time, and when this 1971 vest pattern was presented in the research by costume designer Anne Porterfield, i was struck by its absurd retro awesomeness and volunteered to crochet it for the show: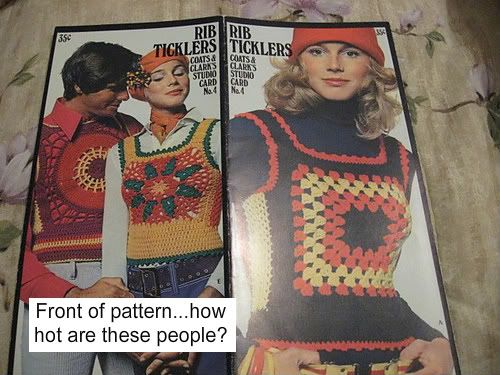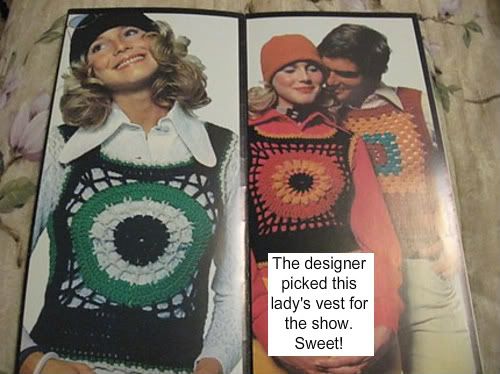 Doing a project like this is a bit different for theatre than for real life, since you are working within a structured fitting process (as opposed to my personal technique of working along, holding it up to myself or sticking my arm through a sleeve, fiddling a little, ripping out some stitches, improvising something new, trying it on again, etc.). Typically we have three fittings, max, with a performer, sometimes fewer than that, so when looking at this project with the long view, i took that into account.
For the first fitting, i crocheted just the motif itself, so we could look at it in scale on the actress' torso, figuring that it's such a bold pattern, the designer might want it to be bigger or smaller than the pattern result.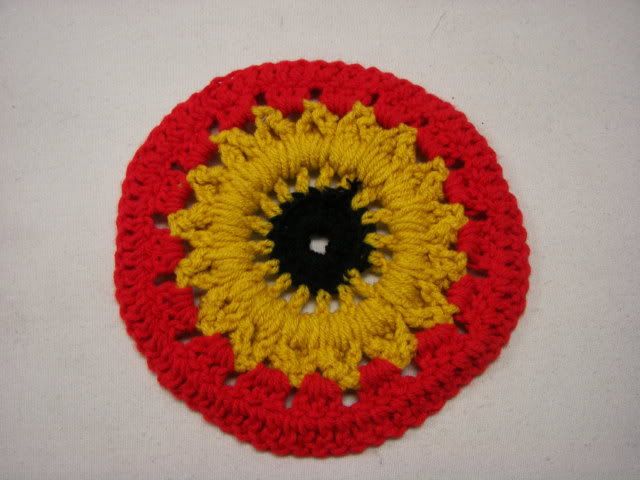 The pattern involves crocheting two of the motifs out to the edge of the "webbing" portion, then measuring on the wearer the length of the shoulder straps and side panels. So, for the second fitting, i crocheted the motif all the way out to the edge, thus: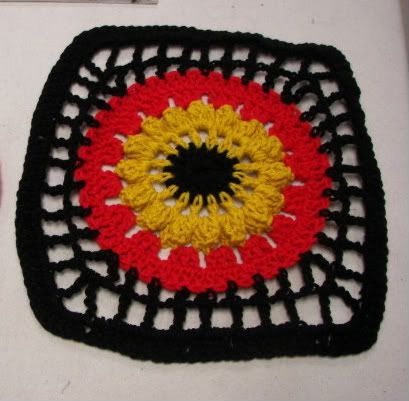 In this way, the designer could approve the scale of the graphical elements in proportion to the actress' body and in context with the rest of the costume. I then took measurements for the length of the shoulder straps and width of the side panels, and now, i only have to finish it up for a final fitting in January before we open!
If you're into interlooping--knitting, crochet, felted knitting/crochet, and even nalebinding, you might want to check out
Ravelry.com
, an online clearinghouse of pattern reviews, yarn resources, discussion fora, and bunches of tools for tracking your output/projects/yarn stash, etc. I'm on there under the name
labricoleuse
, so friend me if you like! Unlike this journal (which, for professional reasons, has no friends-list [1]), i do link to people over there.
ETA 1/31/09:
Don't miss part two of this crochet-for-the-stage adventure, posted here!
[1] Why doesn't it have a friends-list? Because i write this blog as a work-sanctioned activity, as part of the PR for the theatre and the university. Sometimes i am posting on-the-clock as part of my workday. I am not, however, reading an aggregate like a flist on the clock so there's no reason to maintain one.